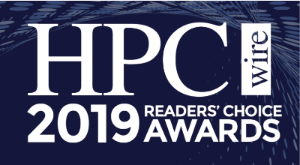 Dear Colleague,
It's this time of the year again when HPCwire readers vote for the best HPC applications, systems, software, technologies, etc. UberCloud is proud to announce that we have been nominated for 6 categories in: Life Sciences, Manufacturing, Energy, Artificial Intelligence, HPC in the Cloud, and Best HPC Cloud Platform. Please be so kind and help us again to be among the award winners. It takes only a few minutes.
Polling for this ballot closes on October 6, 2019
And here is how you vote:
STEP 1. If you are not yet receiving the very interesting HPCwire Newsletter, then please just go to https://www.hpcwire.com/subscribe/ and subscribe to the newsletter, you can unsubscribe any time (but believe me, the newsletter is worth reading). Without an HPCwire subscription, you are not allowed to vote, sorry.
STEP 2. Then go to https://www.hpcwire.com/2019-hpcwire-readers-choice-awards/, enter your email address (the one the HPCwire Newsletter is sent to), and click on "View Your Ballot", and you are in.
STEP 3. Now you see about 20 different categories each with the nominated candidates. You are certainly free to select your favorite candidate, but PLEASE vote for UBERCLOUD in the following categories:
Life Sciences,
Manufacturing,
Energy,
Artificial Intelligence,
HPC in the Cloud, and
Best HPC Cloud Platform.
You are only allowed to select ONE candidate in each of these categories. You can read about UberCloud's contributions to the different categories below:
Many thanks and kind regards,
Your UberCloud Team
Categories and project UberCloud has been nominated for:
Best Use of HPC in Life Sciences
Enmodes' 6-month HPC fluid-structure simulation project with UberCloud drastically improved artificial heart valves using Dassault's Abaqus solver, Capvidia's Flowvision solver, UberCloud HPC Containers, and Advania HPC cluster complementing Enmodes' workstation environment.
Best Use of HPC in Manufacturing
With UberCloud, Ansys Fluent HPC simulations helped to reduce design cycles of optimal bio-reactors used in pharma and food industries by a factor of 5, from a week to less than a day, with a 10-fold increase in productivity of the CAE simulation engineers.
Best Use of HPC in Energy
UberCloud conducted one month of 1000-core HPC simulations (i.e. 720,000 core-hours!) for French energy infrastructure provider Réseau de Transport d'Électricité to assess the lifetime of overhead electrical power lines for Predictive Maintenance.
Best Use of High Performance Data Analytics & Artificial Intelligence

Artificial neural networks with Tensorflow, an HPC cluster and the OpenFOAM fluid flow solver on the UberCloud simulation platform for engineers were used to reduce time-to-solution by a factor of 1,600, from minutes to milli-seconds.
Best Use of HPC in the Cloud
UberCloud helped FLSmidth, a leading equipment manufacturer for the mining and cement industries, discard their old in-house cluster and move all engineering simulation workloads to the Azure Cloud, enabling faster results and turnaround time.
Best HPC Cloud Platform
UberCloud HPC Containers enabling engineers and scientists' seamless access and use of in-house and cloud resources, on demand, with no learning needed. UberCloud Containers are fully integrated with any Linux platform, and with DockerEE, VMware vSphere, OpenStack, HPE Hybrid HPC Stack, Kubernetes, and Red Hat OpenShift.
Thank You!